Banlung
Banlung is the capital of Ratanakiri province, situated in north east Cambodia. The town is small but sees the traffic of neigbouring ethnic minority villages as they come to town to sell their wares at the large central market.
A little out of Banlung sits the beautifully clear volcanic lake Yeak Laom which is over 4,000 year old. Surrounding the lake are large trees and thick rain forest, it is also the home of many exotic birds.
Ratanakiri is known for being one of Cambodia's most remote and pretty provinces and is famous for being the setting for Colonel Kurtz's jungle camp in the film Apocalypse Now.
Our Trip
We decided to stay in Banlung for three nights, so that we could have a local chill out day and also take a day to explore the wider Ratanakiri province.
Banlung
On our first day we had a well deserved sleep in and late breakfast at the hotel after our long motorbike ride the prior day. After brekkie we jumped on our bikes and took a scoot around the area, checking out the central market and trying to spot a mechanics that might be able to perform an oil change/a few tweaks to the bikes after our long ride from Mondulkiri. After a while of scooting around we spotted a few potential mechanics and then headed to the other side of town to Cafe Alee – where we'd eaten delicious dinner the night before of spaghetti bolognase and beef Lak Lak. Lunch didn't disappoint either – we had  tasty chicken burgers and then spent the afternoon there, chilled out on the lounge chairs reading up about the area and writing our blog. We spoke with the cafe owner and had a pretty relaxed day. We then hopped back on our bikes and eventually found a mechanic that helped tweak our bikes a little.
As I wasn't feeling too well, we headed back to our hotel –Ratanakiri Boutique Hotel – for a quiet late afternoon watching movies on cable TV. For dinner that night we ate at the hotel restaurant which was also really good quality and had a beautiful view over the lake.
Biking around Ratanakiri
The next day we decided to explore a little further afield. The hotel staff provided us with a map and a few spots looked interesting including the large volcanic lake which was just 5km away, and also an indigionus graveyard and a gem mine which were 60km further out of town.
We prepared our bikes and figured that we'd go to the furthest spot first and work back, so after breakfast at around 10.00 a.m. we set off towards the graveyard …via death highway. We had been lucky with this road up from Mondulkiri and thought that maybe the road surface would be good for this part too.
The road started off great with reasonable quaity tarmac. We rode about 40km out of town – passing a few small villages and grassy fields – before it started to rain and so we stopped and pulled in to a large petrol station, drinking ice coffee and waiting for the rain to pass. It seemed to do the trick and after ten minutes or so the rain stopped and we were back on our bikes. We continued on for a while and then it started to rain again and so we pulled over and put on our rain ponchos so that we could continue on our ride in the rain.
We carried on riding for another ten or so kilometers when the tarmac road suddenly turned into a dirt track with a dangerous combination of slippery mud surface and hardened mud ridges and mud traps underneath – and the rain wasn't helping matters. We continued on at a very slow pace for 500 metres before deciding that riding this road was a pretty stupid idea (we now know why the road has it's trecherous name!)  and so after a few slips and slides we turned back – alas the graveyard and gem mine was not meant to be! Still, it was nice passing through the remote villages.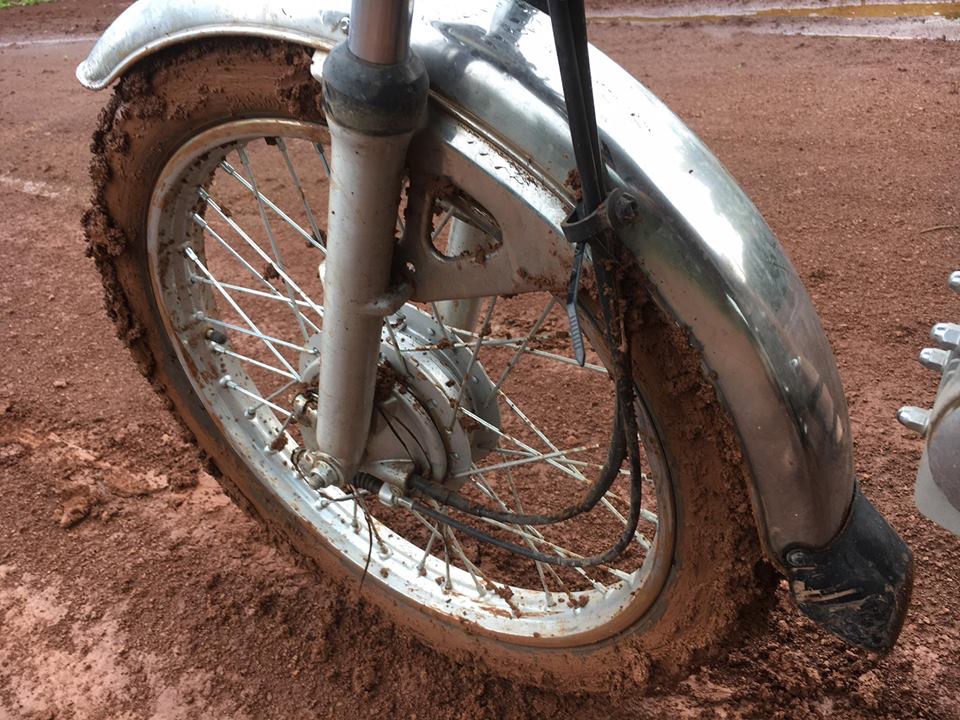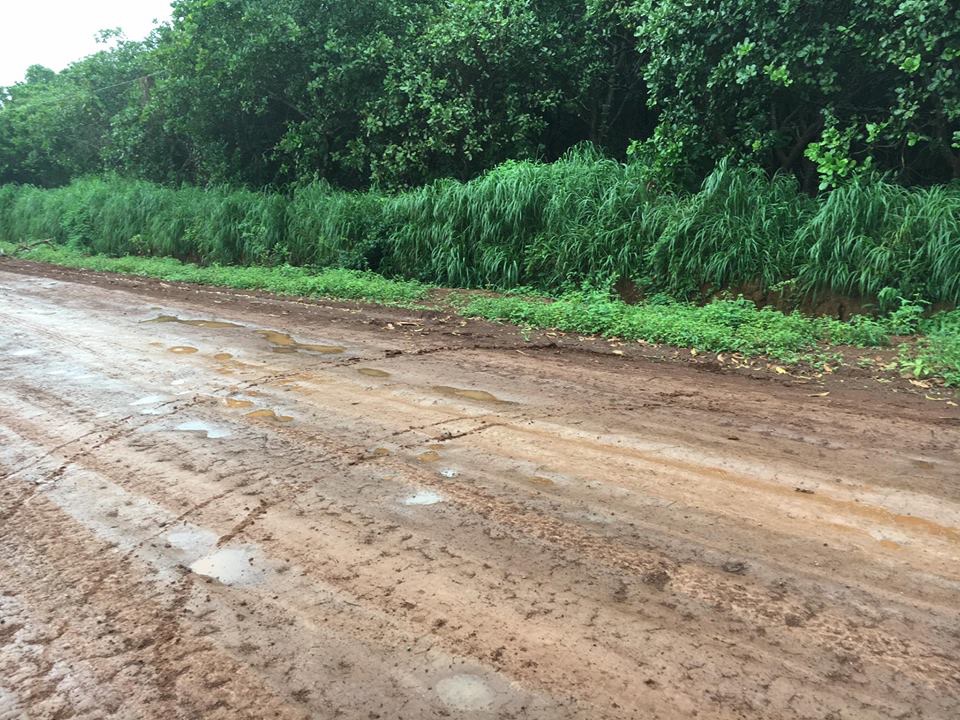 Lake Yeak Laom
It wasn't too long and we were back on good Tarmac again and so we headed over to the volcanic lake which was back in closer to Banlung. We rode over and parked up in the carpark , where there were locals with stalls lining the entrance selling food, drinks and clothes. We passed the stalls and then saw steps down towards the lake that stretched for about 20 meters. At the bottom of the steps were some more stalls and a large jetty into the lake where some children were jumping off, splashing around and having fun.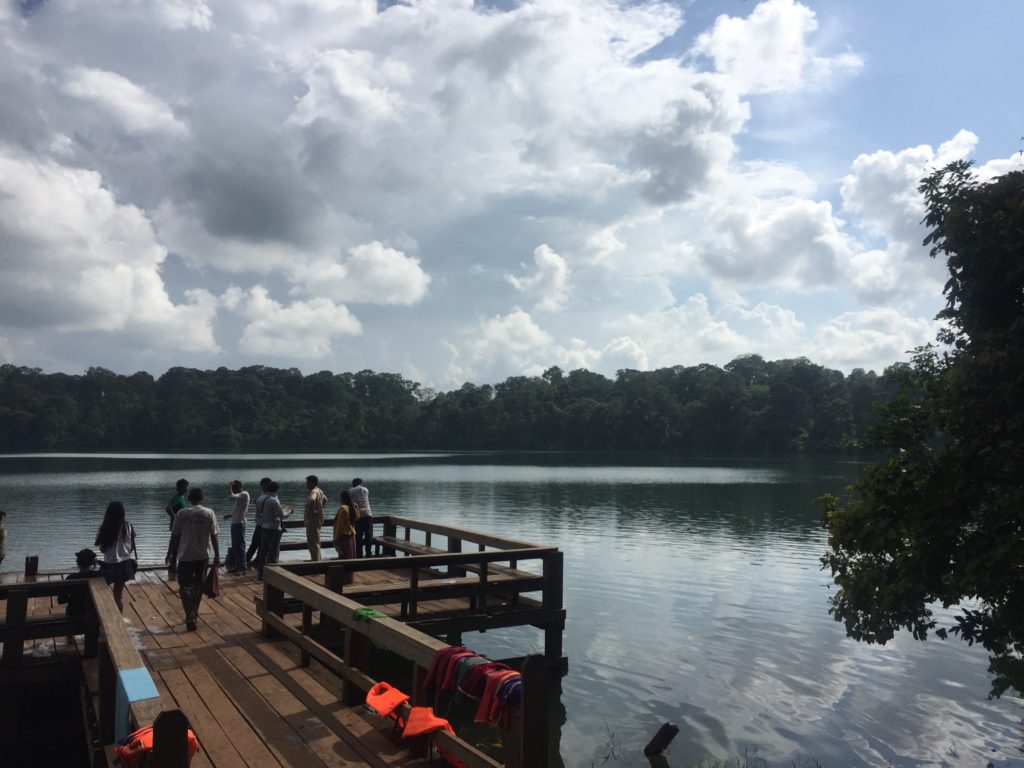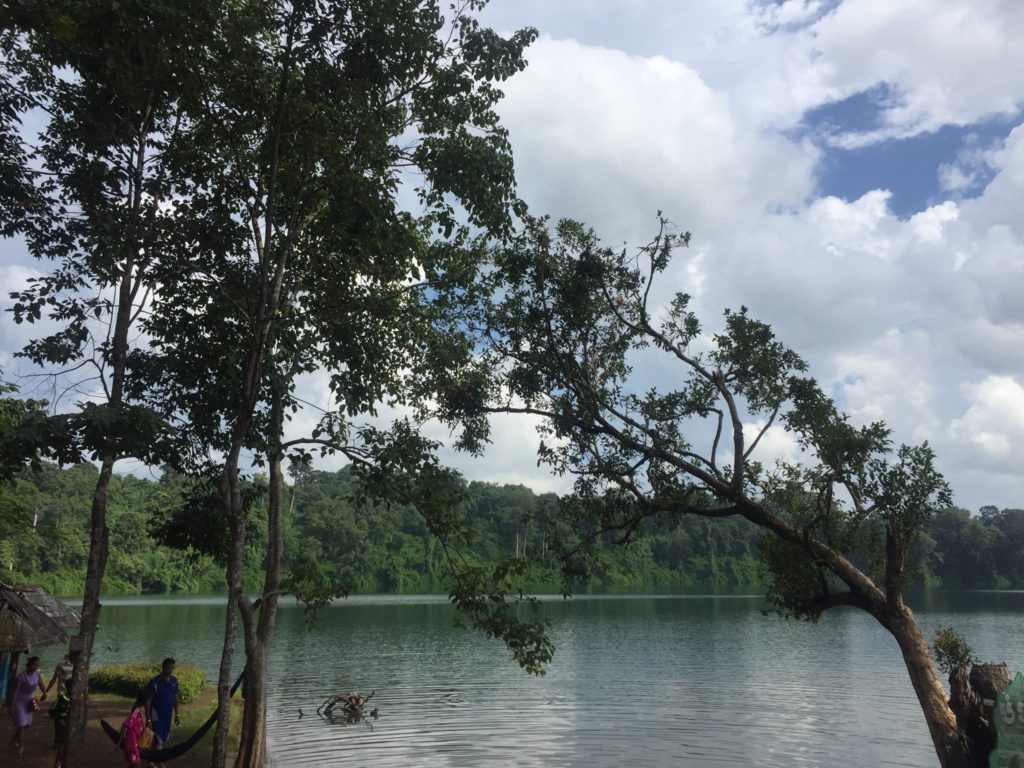 We walked anti-clockwise around the lake but the trees were pretty thick so we couldn't see it very well. As we walked we passed some huts with hammocks set up and a few more jettys, before setting our sites on the third jetty and finding a bench to put all of our things.
We got set up and jumped in the lake – it was nice and warm. We spent half hour in the lake, Messing around and chatting with some local kids – they were all daredevils, climbing trees and jumping in the lake from the branches.
After the excitement of the lake we then headed back to the hotel and washed up, deciding to eat at the hotel that night.
Last morning
After breakfast we decided to give our trusty steeds a treat, Eddie spotted a bike wash and for a few dollars our bikes got cleaned and were shining brightly – we nearly didn't recognise them!
We ate an early lunch back at our favourite Cafe Alee and then hit the road, on to our last stop in Cambodia, Stung Treng.