Kratié
Kratié (pron. Kra-cheh) is situated in eastern Cambodia and lies on the banks of the Mekong River. The town has a central marketplace which is surrounded by colonial French architecture, no bombs landed here so its architecture remains unscathed by war.
The Kratie stretch of the Mekong is home to Irrawaddy dolphins, so it's a popular town for boat tours to see the dolphins as they play and race around in their home environment. Kratie is also thought to have some of the most stunning Mekong sunset views in Cambodia.
Our Trip
Irrawaddy Dolphins
We decided to spend one full day (two nights) in Kratie, so that we could take a boat tour to see the Irrawaddy Dolphins. Our morning ended up being a late start with a leisurely breakfast in our guesthouse before jumping on our bikes to the tour boat area. The tours take place a little north of the town, so it was about a twenty minute bike ride along the Mekong over varied terrain (Tarmac, potholes, gravel etc.) before we reached the tour area.
After parking up, we walked over to a ticket booth and bought our tickets (US $2 each) and then we walked across a field to where the boats are docked, where a boat was waiting for us and the boatman helped us climb aboard. As we sat down, the engine started and we were off. There were no queues, so this all happened in a matter of minutes.
We sailed across the Mekong against the current, for around 30 minutes and then the boat stopped alongside a reef where we sat and watched the Dolphins. As we sat and watched it seemed like there were two different pods swimming and jumping around us – they move very quickly and would be easily missed but they tend to let out a loud breath of air just before they appear, so it's a little easier to track where they will appear. We sat and watched the Dolphins for around 30 minutes before heading back – it was so much fun!
After sailing back to the dock, we jumped back on our bikes and headed back into town. We rode around the market and through some backstreets, and found a mechanic who serviced our bikes and changed the oil, ready for our ride the next day.
Sunset
For dinner we decided to stay close to home and we ended up eating at the restaurant of our guesthouse. As we ate, Eddie spotted the stunning sunset and leapt up to run to the edge of the river to take a picture, the sky was blue and purple with great stretches of orange shining through, it was truely stunning.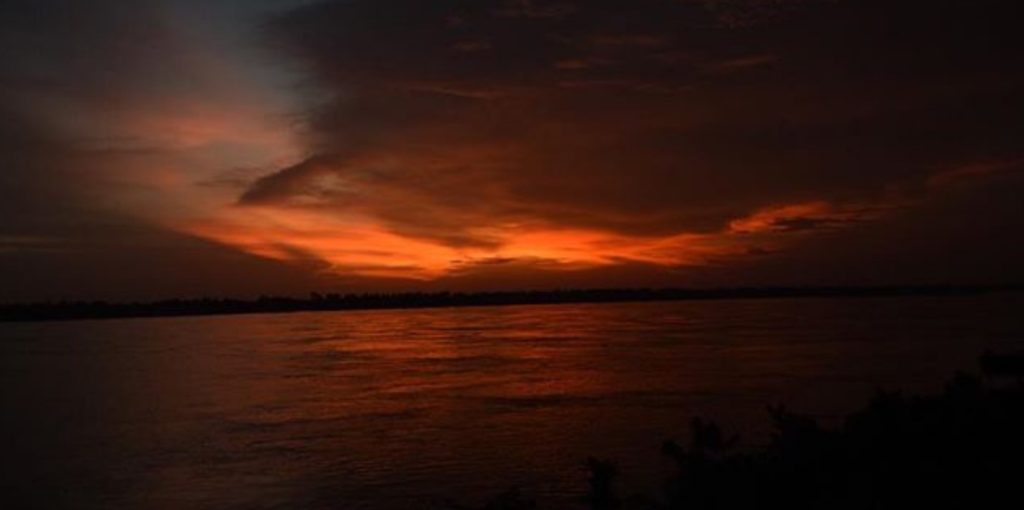 All in all, it's a pretty chilled out town with not too much to do, but a day to see the dolphins and catch the sunset is a definitely worth it.