Pakse
Pakse is situated in southern Laos at the confluence of the Mekong and Xe Don rivers and is the capital of the Champasak province. Allegedly it's the second most populous city in Laos but it certainly has a very town- like feel to it. It's not the prettiest town with little colonial architecture and so tourists tend to pass though with a very short stay, in order to reach the other nearby picturesquely attractions, such as the Bolaven Plateau.
Our Trip
As we rode into town, we stumbled upon the Pakse Hotel (actually it was Eddies Eagle-eye that spotted an awesome rooftop bar; which happened to be the hotel; which was luckily in our price range – yay!)
Day 1 – Rooftop view Dinner
We unloaded our bikes, showered up and checked TripAdvisor.com for a decent restaurant close by – it turns out our hotel rooftop bar is in fact a rooftop restaurant with excellent reviews, so we headed to up and found ourselves in a beautiful restaurant with panoramic views across the town. We made it in time for sunset and as ever the Mekong didn't disappoint, the sky was flooded with orange and purple hues. We ordered a delicious meal, and chatted away until the wee hours – at which point we noticed everyone else had gone, including staff! We stayed a while longer to finish our drinks and then crept away, apparently we have no 'off' switch!
Day 2 – walking about
The next day we woke with a bit of a sore head (damn you wine!) but pushed through and made it to the hotel restaurant in time for breakfast, which was very nice – a large buffet selection of western and traditional options. After breakfast it was all a bit much, so we retired to the room for a nap, hoping our hangover would pass. Yep, a slow start!
After a morning of rest, guilt got the better of us and we decided to tour the town on-foot and get some fresh air. We left our hotel and found a lovely French patisserie very close by where we ate lunch in beautifully cool air conditioning.
After lunch we took a stroll around the town and walked past the market and up to the Japanese friendship bridge. It was a nice stroll but the weather was quite overcast so everything looked a little grey and bleak. We then jumped in a tuk-tuk back to our hotel and bunkered in for the evening watching movies and hoping (for the love of god) our hangovers would pass!
Day 3 – Big Buddha
We woke the next morning quite refreshed and after another hearty buffet breakfast, decided to jump on our bikes to visit the big golden Buddha on the hill. It was a relatively simple ride over the friendship bridge and the first left up the hill. We parked up and saw the fantastic view the big Buddha looks over, very impressive.
After taking a few photos – including appearing in many with a nice Thai tourist group (their request!) – we jumped back on our bikes and took a quick scoot across the town. Nothing too interesting to see and we decided that our hotel was probably the best location for tourists – a lucky guess! We saw a large supermarket and pulled over and bought a few supplies.
For dinner we were hoping to go back to the rooftop restaurant but upon arriving there was a note on the door 'we are closed tonight, sorry for any inconvenience' – which was pretty inconvenient! So we walked around and settled on a local beer garden/restaurant – the food was ok but not quite the city view we'd hoped for.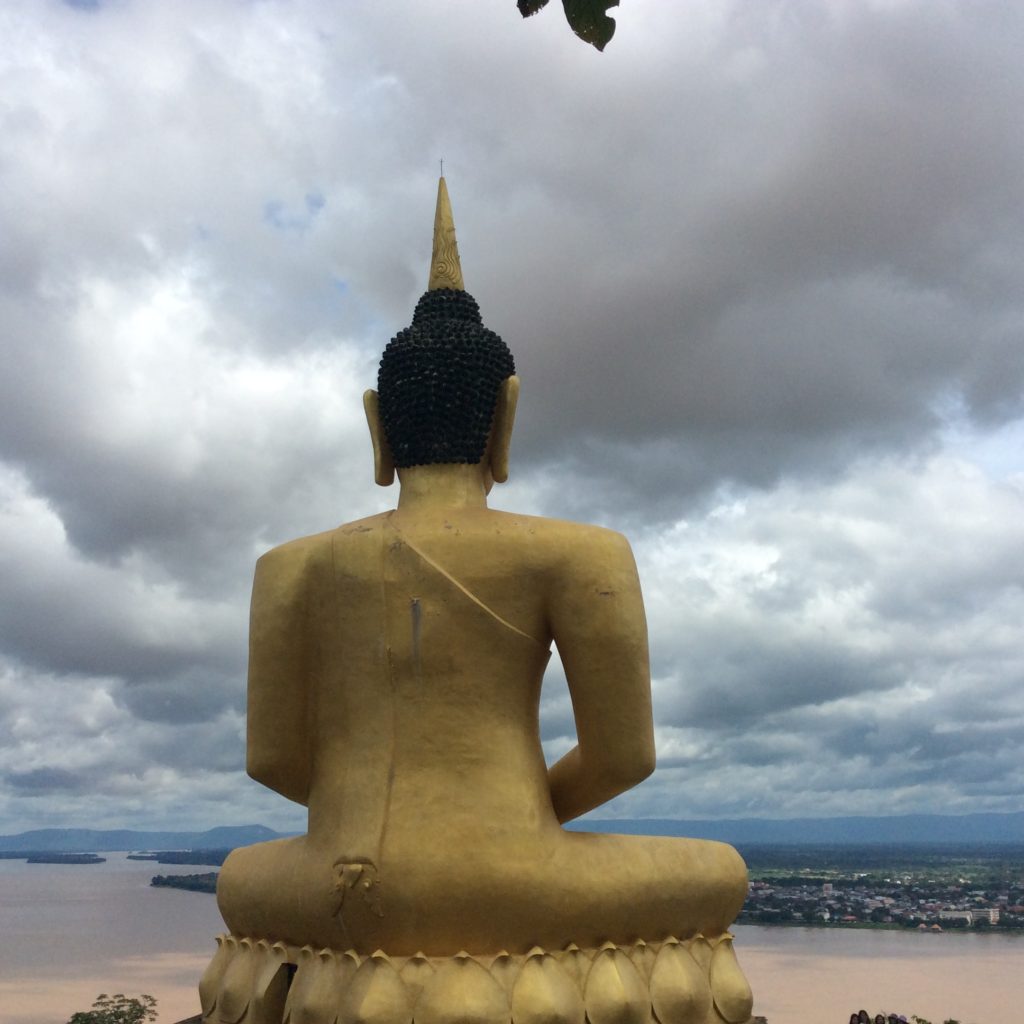 Day 4 – leaving town
Our last morning in Pakse saw us up early for the buffet breakfast and then we spent a couple of hours on the hotel computers booking flights and applying for visas for our next destinations. After getting organised we went back to our room and carried our bags down to the front of the hotel to load up our bikes – at this point we get talking to a hotel worker, Chris, who asks us about our journey and tells us about his time touring by motorbike around Asia. Chris mentions to us that when we go to Luang Prabang we must go to the motorcycle club to see his friends new bar… we don't need to be told twice and make a mental note for when we reach there.