Ride day 18: Hội An to Quảng Ngãi
23 June 2016
It's time to say good bye to the excellent and friendly Flame Flowers Home Stay and move on south. A quick bite of breakfast in the home stay before we load up the bikes.
Whilst loading up, we notice that a couple of our bungee cords are fraid. The hosts at the Home Stay were super kind, and came out to give us two of their own to help us out. Then whilst we are finishing the last bits of packing up, Turong (the friendly home stay host) appears to say goodbye. He'd left work early after his wife had phoned to tell him we were almost ready to set off – very nice of him. After a quick last ride through Hội An on the way out of town we take a short stop to re-load Traceys back and balance it a bit better.
Then out of town over the new bridge to the east and along the wide empty highway heading south. The road was in near perfect condition with small sand dunes on either side and clear signs that areas have been marked off for development of resorts, which will undoubtedly change the area in the future. At the tail end of the newly laid section of highway, we stop for a refreshing sugar cane juice.
The next section of the ride whilst showing on satellite views as having roads, does not appear properly on either google maps or maps.me app, so has to be undertaken freestyle. The road is a very narrow and winds through a small local fishing village before popping out next to an unspoilt empty beach. At this point the road stopped, so a quick turnaround and some cross country across the sand to get to what looks like a road heading south. Sure enough this road begins to wind south parallel to the beach through a series of small hamlets and local crayfish / prawn farms. The road itself is very narrow and full of potholes, and still at this moment we don't know whether there is a ferry, a bridge or in fact nothing, at the at end of the 15 km peninsula. As we near the end of the road, there's an increase in activity which makes me think there is a crossing. Sure enough, we turn the corner to find the smallest "ferry" and locals waiting. There's a small shop selling cold drinks with handmade wooden tables outside. So we stop for an ice cold drink in the sun and the friendly old lady at the shop tells us the ferry will go in 20 minutes and it's probably VN $15,000 to cross. As it turned out, it was indeed $15,000, but the ferry actually went as soon as we opened our drinks, so we had to frantically drink then ride on.
At the far side of the short crossing, we have to turn the bikes on the ferry so we can get them off. The road on this small island section is considerably more narrow than the peninsula to the north. A very windy 2 metre wide concrete road that winds past houses and back streets before eventually meeting a bigger road. At this point we pass a truck coming the other way, which gives me comfort there is a ferry at the south end of the island. This is confirmed a few km later when we come to a small market area with a fair amount of activity. The ferry here is an actual proper small car ferry with a more formal ticket system. As we see the ferry approaching from the far side of the stretch of water past the blue and red local fishing boats it's obvious that there is a significant current pushing downstream. Even once the ferry had pulled up and motorbikes were disembarking up the ramp, the ferry had its engines on to hold position. No anchor lines were attached, meaning the boarding and disembarkation the far side felt a touch dangerous.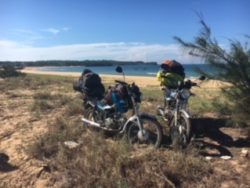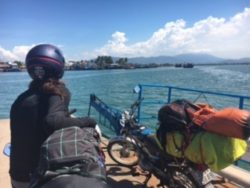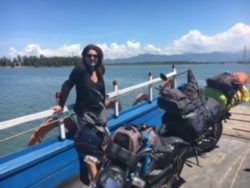 In the intense heat we decide it's time for another stop, so pull in to the next small town and stop at a corner side cafe in the main road. A man in his 60's steps over to talk to us and ask what we want. He then joins us at our table to chat whilst we drink our fresh coconut juice. A few other local men also sit close by and watch, and talk to the man in Vietnamese, whilst he talks to us in absolutely perfect English. It turns out he had been a war correspondent and photographer during the war. An exceptionally dangerous profession as he told us, and then proceeded to tell us about being shot in the head. He then showed us the huge scar on the back of his head. A nice long break and a very interesting chat.
From here on down the coast was exceptionally difficult to stay off main roads due to the huge amount of construction and road closures. All of this meaning we ended up back on the QL1 for the last 20 or so km of the day. This brought us in to the town of Quảng Ngãi in he late afternoon. We were hungry having not had lunch, so pull up to a Banh My stall and get a lovely fresh sandwich before heading in to town to ride around and find a hotel for the night. It took a few laps to find a nice area and hotel, we then checked in and went for a walk round the local park which was full of families spending time together, and kids playing with kites, hover boards and toy cars.
We eventually find a nice looking restaurant near the park that's full of locals, and head in for a bite to eat. A fair amount of guesswork and using an online translator to order a series of local dishes and a couple of beers. A delicious and well priced meal, followed by a walk back through the park and a cheeky ice cream in our hotel before retiring for the night.
Full days route here: