Ride day 49: Kratie to Sen Monorom
22 August 2016
Last morning in Kratie and breakfast is downstairs at the guesthouse, where we get to watch the funny puppy dogs over the road running around causing trouble.
After packing up the bikes it's a quick petrol stop before riding out of town. The road out is bumpy, but nothing compared to the road along the river from a few days ago.
A few kms out of town we begin to hear a very loud noise but can't work out what it is. It's getting louder, so we are obviously getting closer to it. Eventually we pass this unbearably loud noise of a man shouting in to a microphone at a wedding. Unbelievable.
The first part of the day is a ride up Route 7, a decent road with no potholes but a reasonable amount of traffic. The strangest road users are the stripped down minibuses, with back doors removed and packed full of wood. We also encountered minibuses packed full of motorbikes, with some even strapped to the bumper on the outside. The only other notable road traffic was a cart pulled by a couple of cows.
The road has enough twists and turns to make it interesting and in the distance we can see the mountains rising up. A bit of wildlife also kept the mornings ride interesting, with a weasel running across the road, and a very very large bird of prey circling over head for a while. Along the roadside there are plantations of pepper, cassava, as well as tea and coffee coming in to the mix.
Just before the turn on to route 74 at a small town called Snuol, we stopped for a bite to eat. Our early lunch consisted of French bread stuffed with meat and an ice shake of avocado/durian fruit – surprisingly good.
Feeling revitalised by the food, we set off for the remainder of the run up to Mondulkiri. The roads start to climb in towards the protected landscape areas. At some of the roadside shacks we start to notice what we'd previously nicknamed "border bikes" whilst in Kon Tum area. Basically, stripped down scooters with elongated swing arms and chains around the tyres to get traction on the muddy tracks of the border areas. We pass a couple of turn offs signposted to Vietnam (this area is very close to the border).
Both of our bikes are noticeably noisier on the climbs and finding them hard. Other than the Preah Vihear temple of a few days prior, these are the first proper hills of Cambodia.
As we ride through the protected landscape of the national park we are surprised to still see a lot of forestry and locals with wood on back of scooters and in very muddy cars. They are almost all old Toyota corrolas, and we pass a couple of scrap yards full of them, including some better looking than the ones on the road.
The farm lands and jungle that has been the mainstay of the Cambodian roadtrip so far gives way to Pine trees, and grassy plains. The scenery is similar to that around Dalat in Vietnam, and temperature is also cooler with the altitude.
As we ride in to Mondulkiri we are surprised to find a relatively busy big town. There are signs of westerners and elephant safaris advertised around the place. Through the backstreets past the market is however a very local scene.
We follow our directions which takes us down a very steep rutted mud track. A few young kids on the way down step aside and joke and laugh around. One young boy (about 3) runs over and touches Traceys hand and then runs away screaming with joy.
The rutted track rejoins the road after about 300 metres and it's only about 300metres ride to the Mondulkiri Project Tree Lodge where we are booked for the night before our two day jungle trek. We have booked a cold water room only for $5 (hot water is $7). A schoolboy judgement call made when we were in considerably hotter climes.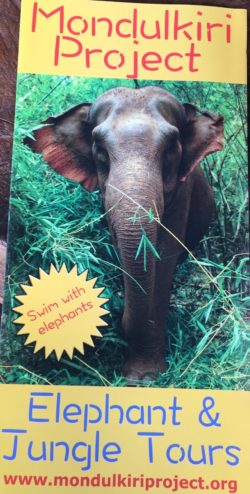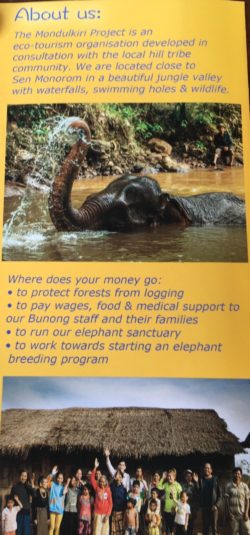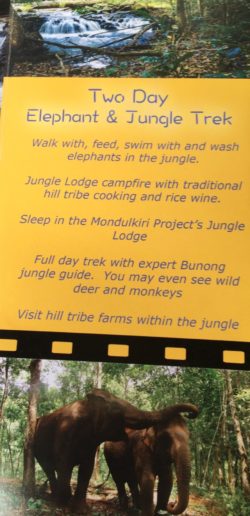 After a very very cold shower, we head back in to town to get some supplies for the next few days. The local supermarket at the petrol station had an amazing selection of British and French produce; snacks, drinks, wine, cheese. Even Heinz baked beans and spam.
On our way back to the lodge we stop in for a delicious coffee and milk shake at Peace Coffee, before returning to the lodge at dusk for excellent Khymer curry and beers before bed.
Full days route here: