Ride day 47: Sar'Aem to Strung Treng
19 August 2016
Waking early to the sounds of the market and dogs outside, we prepare ourselves for a fairly long days ride to take us back down to the Mekong.
After packing up and riding out of the busy market street of Sra 'Aem, it's a fast blast down the road we had ridden the prior day. The military vehicles tucked away under bush shelters at the side of the road are easier to spot heading south. Large numbers of army transporters, various trucks and jeeps, and a few anti aircraft guns are tucked away. There are also other shacks with camouflage coverage disguising whatever may lie underneath.
As we race along the road we can hear and see a large collection of people up ahead. As we draw closer there are lots of fancy 4WD's mainly with military insignia and lots of men in uniform. There is a funeral at the side of the road with music playing and a large very ornate funeral pyre set up. Quite loud and colourful for such a somber affair.
The remainder of the first section of the days ride, the 80km to Krong Preah Vihear (where we had spent the night the day previous) was a very quick blast. The road, whilst being decent quality and relatively interesting scenery of small rural farms, is one we have seen already.
Once in to Krong Preah Vihear, we turn left at the roundabout to head up the high street and get a coffee. The coffee and a few biscuits bought the night before makes up our breakfast for the day, at about 10.30 a.m.
Leaving Krong Preah Vihear, we headed on to National Highway 64 heading east. Whilst this is a relatively major highway, the traffic is still very light and predominantly local, and the Tarmac is excellent. We passed a series of small trucks with various threshers and other belt driven machinery in the back. It was only a few kilometres later on that we saw them in action and discovered that one of the threshers at least is for rice. After 30 or so kilometres down the road, after passing a very large factory (very little idea what it was – had some very large due stores and chimneys, and absolutely huge warehouses) we had to pull over to re-fuel.
Shortly after the petrol stop we encountered a classic south east Asia roadside scene – a bunch of trees lying on the road before and after a broken down lorry, to warn oncoming motorists. The lorry itself had most of its running gear guts dropped out on the floor in the middle of nowhere, with a couple of young blokes working at it with just a handful of tools. No obvious engine hoist or major lifting gear. It's a scene that is common place on roadsides throughout the region when trucks breakdown.
The roadside through this region has lots of traditional thatched farmers shacks with beautiful small subsistence farms surrounding them. It's as we pass by some of these amazing farms that we spot two backpackers on Honda wins riding the other way. The obligatory waves, smiles and beeping of horns – as the first moto packers of our Cambodian leg.
By 12 noon we've already covered 162km, and we stop for some water and biscuits. We're joined on our stop by a beautiful butterfly who takes a liking to my motorbike jacket.
After the much needed rest and leg stretch we continue on our way on the good quality roads with very little traffic. The road itself is quite flat, but more twists and turns than most of Cambodia so far. There is a lot of forestry / deforestation in the area, with lots of wooden buildings and fancy wooden carvings and furniture for sale. Cassava and rubber is taking the place of the forests. Along the road side we encounter groups of children playing in water ponds, and also see a few slightly older kids riding scooters and driving rotorvator carts.
As we look to the north we can see large karst landscapes up near the Laos border. We are getting close to the Mekong again, and wondering what the ferry situation will be like. It's then that we spot an unexpectedly big bridge, and the Mekong starts to open up underneath us. We knew it was a big river, but both of us are still surprised by how wide it still is so far upstream.
As we ride in to Stung Treng we pass the market area in the centre of town, and stop for a bite of Beef Lok Lak to eat as a very late lunch. We also take advantage of the Internet to find somewhere for the night. We settle on the Mekong Birds Lodge – it's about 7km away, and no way to contact them that we could find. So we ride out hoping they have space. The road took us over yet another large bridge, and then a very wide main road that heads north to the Cambodia / Laos border. It's a funny road though, as every 200-300 metres it turns from Tarmac to dirt. It's then a left hand turn down a dirt track for a few km to the lodge. Thankfully they did have room available, and the very friendly French owner showed us the rooms and the two restaurants on site.
We unload our bikes and then grab a shower in our river side cabin, before heading to the far end restaurant for a sunset dinner on a deck to ourselves. An amazing sunset and fantastic food.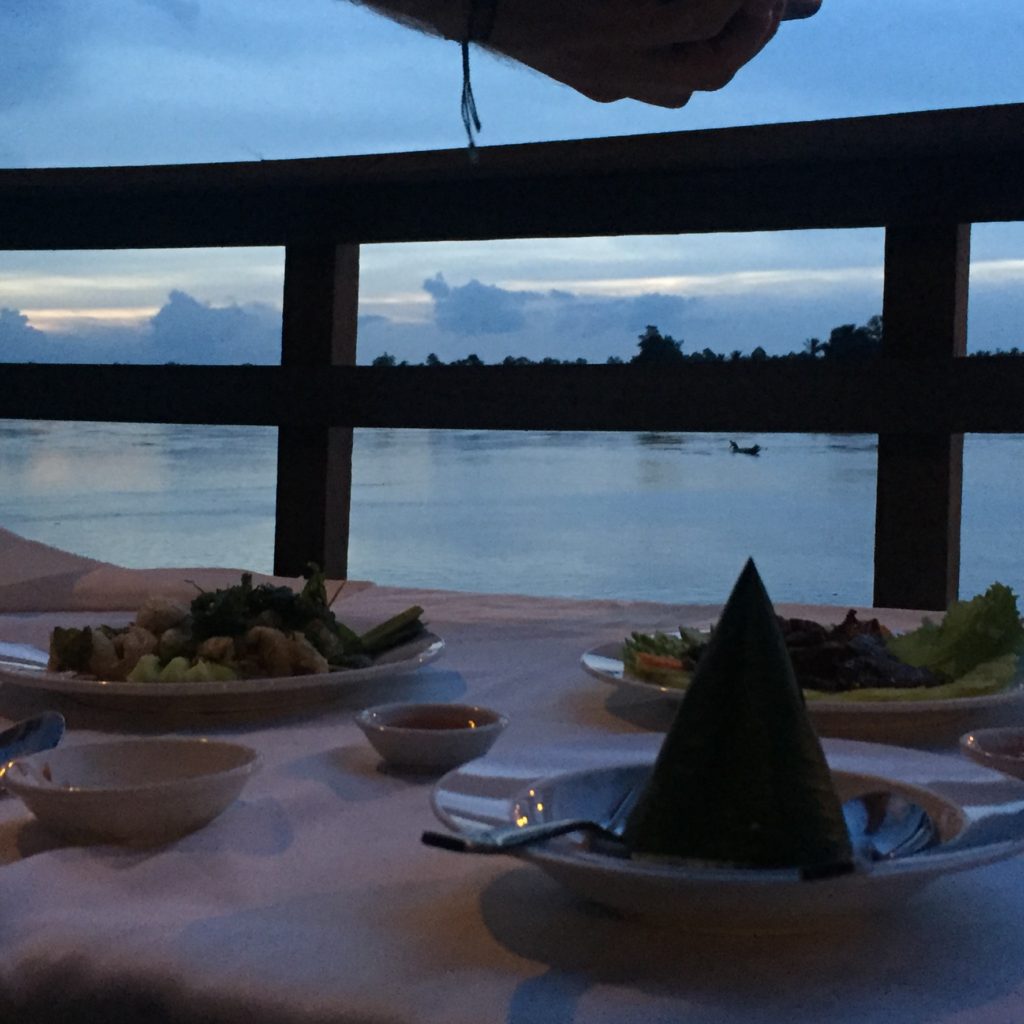 Full days route here: